Hello, my name is John Robinson and I'm Auntie Eva's nephew.
Auntie Eva was always my favourite auntie even though I don't  really know any of my other aunties. We were always very close and we even shared a birthday, although just a few years apart.
Auntie Eva was everything an auntie should be, she was kind, always had comfy beds when you stayed at her house and ALWAYS had something yummy to eat ! – Trips down to Geelong in the '70's always seemed like an incredible adventure to a young boy.
When Stacie asked to speak today I didn't know where to start – I get to talk about the life of a very dear person, who was also a loving Wife, Mother, Grand Mother and Great Grand Mother. She was also a very dear friend to so many people.
They told me I only need to speak for five minutes so I'll apologise now as talking about someone with as many great qualities as Auntie Eva will take me slightly longer than that.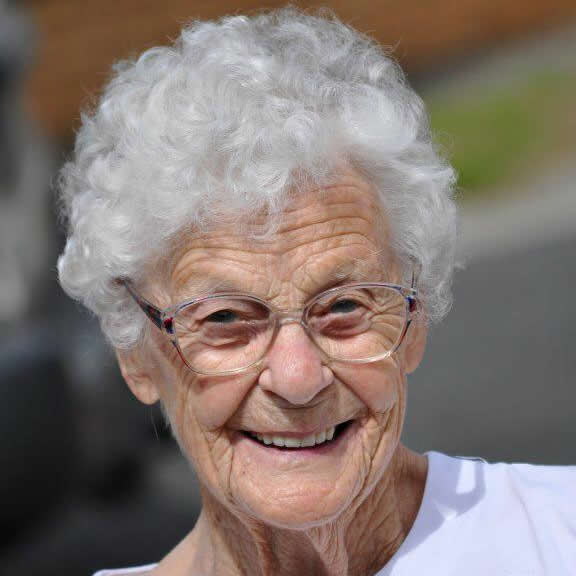 Eva Robinson was born on the 2nd of July 1917 to William Milner and Miriam Buoys, in (WUM-WELL) Wombwell, South Yorkshire.
The Milner's had four children, with Eva the oldest of three girls, Doreen (dec), Phyllis and a son William (dec).
Eva was baptised in her hometown on 18th of July 1917.
Eva attended school locally and had an enjoyable childhood.
Eva was a part of the Women's Royal Naval Service in the late 1930's, contributing service for World War Two. It was during this time that Eva met Joseph William Robinson, at the Royal Naval College in Greenwich, Joseph went on to became a Lieutenant in the Navy.
Joseph Robinson and Eva Milner were married on Feb 6th 1943 at Wombwell Parish Church, with the bride wearing a Georgian dress in white lace and a coronet of orange blossom, the couple honeymooned in Southport.
After they were married Eva and Joe lived together in Wallasey, county Merseyside.
Joe and Eva welcomed the first of three sons on 12th of July 1944 – Michael John followed by Anthony Stuart on the 13th March 1950 and Christopher Martin on the 25th October 1952.
After much travel with the Navy and having visited Australia on duty Joe and Eva made the courageous decision to move the family down under.
The family set voyage in April 1955 from Liverpool on the HMS Georgic and arrived in Australia on the 14th of May.
The family found residence in Redcliffe QLD for 5 years. With Joe working as a Ship Merchant and Eva bringing up the three young boys.
The family moved south to live in Warners Bay NSW for a few years before finally settling in Geelong in 1962.
Eva was always very proud of Joe's service and of her boys.
At this point of time Geelong provided a great opportunity for the Robinson Family with Joe employed as the Geelong Harbour Master and the boys in school.
In the late 1960's Joe and Eva purchased the home at 59 Pioneer Rd Grovedale, (still to date- Eva's home)
In 1967 my Mum & Dad, Ren & Honor Robinson introduced Joe & Eva (via mail) to Jean & Burnie Ellson and in May 1968 Joe & Eva sponsored them in their migration to Australia,
It was Joe & Eva's kind nature to open their home to the young couple who lived with the family for almost a year until they found a home of their own and settled in.
Eva remained lifelong friends with Jean & Burnie and took on the role of Nana to their three children Matthew, Laurel and Richard.
In September 1968 it was with much sadness that Joe passed away after battling Lead Poisoning.
Eva started working as a housecleaner and cook for Mr and Mrs McKendrick of Godfrey Hirst to support her three teenage boys.
She had this job for many years full time before she decided to cut her work load back to just a few days a week.
In 1969 Eva's eldest son Michael set off on his way around the world backpacking, he soon found himself back in England where he met his wife Judith, as a young boy I can still remember the arrival of Michael and Judith on my parents doorstep !
They had two children of their own, Andrew and Peter. Sadly Michael passed away in 2005.
Tony went on to Study Farm Skills and Chris started working at a young age to help his family.
Chris met soon to be wife Maxene and on the 11th of January 1975 they were married.
Chris and Maxene had three children of their own – Yasmyn, Troy and Stacie.
Eva played a big roll in her Grand-children's lives, and enjoyed reading to them, taking them to the park, and attending sporting events, she also loved the company of animals.
Eva visited her family in England 3 times, the last time being for her sister Doreen's funeral.
Eva enjoyed attending farmers and craft markets, she also loved driving in the countryside and seeing new sights, she accompanied the family many times on getaways, holidays or the usual BBQ's and parties.
Eva was an active member of the Uniting Church of Grovedale.
She enjoyed knitting, and providing beautiful masterpieces for her grandchildren and friends children, in her later years she was often found sitting in her chair knitting another beanie to take to the market to sell.
Eva accompanied Tony for many years, bright and early every weekend to be set up with a big market stall selling bits and pieces, Eva just loved the atmosphere of fresh air and plenty of people to have a chat to.
She was always very kind to the young children that visited the stall, often giving them too much change back.
Eva was a very independent woman who was not only gracious but also very strong willed.
Eva enjoyed and excelled at cooking for her loved ones, many times her grand children were found trying to smuggle the plate full of her famous chocolate slice from the table.
For the past 10 or so years Tony has been a great support to Eva being her carer and living with her permanently.
Tony and Eva would go on many long car rides through the countryside and sightseeing.
Eva defeated Cancer more than once and lived on with osteoporosis – but none of this stopped Eva and her determination to just be at home rather than in a hospital.
This wish for being in her own home carried her right through until recent weeks when it became vital that Eva was to be a permanent resident of Geelong Aged Care just 2km from her Pioneer Road home.
Eva passed away very peacefully on Thursday 8th January surrounded by laughter and the love of her two sons and family.
A fond memory of my own…
At the memorial service of my Mum, Auntie Eva arriving in the car park of the Church and called me over to the car, she handed me a Tupperware container of her famous chocolate slice, and told me these are for me, and I didn't have to share them…
so today I have a container of not so famous chocolate slice for my cousins Yasmyn and Stacie and THEY don't have to share them either !